Last Updated on June 13, 2019
She Likes To Sew may collect a share of sales or other compensation from the links on this page.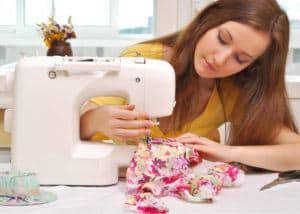 Are you thinking about sewing for the first time? Sewing is one of the most useful skills that anyone can have! Children of all ages can pick up sewing in just a day or two because it is fun, easy, and safe to do. That includes those adult kids amongst us too! In order to get started, however, you'll want one of the best sewing machines for beginners to help you learn quick and easy. That's what you'll find here today!
Here Is the Best Chart For Beginner Sewing Machines
There's a good chance that you're not quite sure what kind of features you should get in a sewing machine if you've never done any sewing before, right? To help you out, we've put together this comparison chart so you can discover the highlights of today's best sewing machines.
IMAGE
PRODUCT

EDITOR'S CHOICE

Brother CS6000i Sewing Machine

Built-in Stitches: 60
Our Rating: 4.5
Price: $

Check Price

RUNNER UP

Janome 8002D Serger

Built-in Stitches: 12
Our Rating: 4.8
Price: $$

Check Price
Brother XM2701 Sewing Machine

Built-in Stitches: 25
Our Rating: 4.4
Price: $

Check Price
Janome 11706 3/4 Size Hello Kitty Sewing Machine

Built-in Stitches: 11
Our Rating: 4.4
Price: $

Check Price
SINGER 1507WC Easy-to-Use Free-Arm Sewing Machine

Built-in Stitches: 8
Our Rating: 4.2
Price: $

Check Price
SINGER 4411 Heavy Duty Sewing Machine

Built-in Stitches: 11
Our Rating: 4.0
Price: $

Check Price
SINGER One Computerized Sewing Machine

Built-in Stitches: 24
Our Rating: 4.4
Price: $$

Check Price
Brother Project Runway CS5055PRW Electric Sewing Machine

Built-in Stitches: 50
Our Rating: 4.5
Price: $

Check Price
Brother XR9500PRW Project Runway Sewing Machine

Built-in Stitches: 100
Our Rating: 4.6
Price: $

Check Price
Janome 2212 Sewing Machine

Built-in Stitches: 12
Our Rating: 4.7
Price: $

Check Price
What Are the Basics of a Sewing Machine?
If you've ever seen someone stitch together a seam or attach a button by hand, then you've got the basic concept of what a sewing machine does as well. Instead of having to use your hands to put a needle with thread through materials, the sewing machine does this for you! This makes sewing an easy skill to develop with some time, but don't be fooled – it isn't as easy as it looks! One of these basic sewing machines is perfect for someone who is getting started with making crafts at home, such as the octopus costume in the video below from Martha Stewart's show.
That's why having one of the best sewing machines for beginners around can really help you out. These machines are specifically designed with the beginner in mind to make sewing as easy as possible. The best sewing machines won't compromise on the final results, however, and they are scalable and flexible to let you take over some customization and your skills develop.
Most sewing machines can be used on any desk or table. Some have a pedal that needs to be used, while others have wider tables on the casing of the machine that take up some extra space. You'll need to learn about how to wind a bobbin and how to thread your machine, which is a unique process for every make and model. That's why reading through the best sewing machine reviews can give you a tremendous advantage during the shopping process!
What Are the Benefits of Using a Sewing Machine?
The primary benefit that the skill of sewing provides you is the gift of customization. You can create stunning clothing, curtains, and blankets with just some basic stitches that you'll find on almost all entry-level sewing machines. Although it does take some time to make your own things, you'll also soon discover that you can save an amazing amount of money just by using fabric to create your own items!
Sewing machines also help to develop your creativity. For kids and adults alike who are looking for a hobby that is both fun and useful, sewing fits the bill. An afternoon is all it takes sometimes to create some basic items! For those who are willing to put in more work and time, some amazing embroidery and quilt work can turn a house into a home or be the perfect gift for a loved one.
What Are Some Common Problems With Sewing Machines
Here are two words for you to remember as you get started: thread tension. If your thread tension is too low, you'll end up having your stitching get bunched up and you won't get a clean stitch. That can eventually cause the sewing machine to jam up and you'll have a nest of a mess on your hands!
Having thread tension that is too high is also problematic because it can cause your thread to break. That can cause the thread to get lost inside the body of your machine or get caught in the gear mechanisms and that's a costly, uncovered repair for many makes and models.
Being able to thread the needle effectively is also something that the best sewing machines for beginners do well. Look for needles that have an eye that faces the front and won't move up and down so you don't stab or pinch yourself as you're trying to get started on your first sewing project.
How Do You Find the Best Sewing Machines For Beginners?
Although manual sewing machines are generally cheaper, they also require more overall skill. That doesn't mean a beginner can't learn these skills effectively, but it does mean that the learning curve can set a beginner back and they could accidentally cause some damage to their new sewing machine. Look for automatic options instead that let you get going with one-touch convenience.
The best sewing machines are going to provide you with multiple stitching options. Basic, entry-level models will have about a dozen or so stitches that you can use. Upgrading to an automatic sewing machine will often give you about 100 total stitches and some buttonhole alternatives so you can create fashion that represents your personal swagger! Then all you've got to do is feed the material at the right time and in the right place to get an outstanding result.
You'll also want to look for autopilot features that can help you quickly sew in almost any environment. The average manual sewing machine is controlled with a foot pedal that acts like an accelerator pedal on a vehicle. You control the speed, but this also increases the chances for mistakes. The best sewing machines will let you set the speed with a touch or button instead and then let you keep that speed until you stop it.
What Are the Prices of Beginner Sewing Machines?
Most of the sewing machines that are geared toward beginners are highly affordable on Amazon today. Many of them are priced for less than $200 and will effectively help you to begin building the skills that you want or need. More expensive options can be priced in the $500 range, but those are for people who are willing to invest extra time in the skill development process.
What Do Our Reviews Have To Say?
With a 25 year limited warranty included with the price, the Brother CS6000i offers a quilting table, buttonholes that auto-size, and ultimately a faster way to sew. If you're looking for a sewing machine that has lots of options, a smooth operation, and few complications, then this is definitely a sewing machine to consider. You can select up to 60 stitches and even adjust the stitch length and width through the LCD display included in the machine. All together, this could be the perfect beginning sewing machine for you!
Click here to look at pricing on Amazon and buy now.
The Janome 8002D Serger offers a lot of quality options at a surprisingly good price so that you can finish like a pro every single time. It's easy enough to use that even beginners will find a lot of value with this sewing machine, while the adjustable cutting width allows for the options that an experienced user is going to want. It offers a 3 or 4 thread overlock stitching capability with adjustable cutting widths that range from 3.1 millimeters to 7.3 millimeters. With a maximum speed of 1,300 stitches per minute, all of your sewing chores will get done quickly thanks to this full-sized unit that is in a compact design.
Click here to look at pricing on Amazon and buy now.
If you're looking for the ultimate in sewing affordability, then the Brother XL2600I is the perfect sewing machine for you. It has 25 built-in stitches that will help you get some customization into your work without overdoing it. A free arm is available for added free-hand customization and there's plenty of storage space in the arm as well. The needle is illuminated quite nicely and the machine is lightweight enough to be portable, but still heavy enough to be stable. There is a lot of value here and that's why it is one of the best sewing machines there is right now.
Click here to look at pricing on Amazon and buy now.
When looking at this Janome sewing machine, we loved how there were 11 stitches programmed into it. There's also a four-step buttonhole and when combined, it allows anyone who has never done any sewing before to get a feel for what is needed. Even though it is a ¾ size machine, it still has a heavy duty sewing capability and that makes it perfect for the dorm or the studio flat as well. Would you like to be sewing pretty with Hello Kitty?
Click here to look at pricing on Amazon and buy now.
The best part about using this particular model from Singer is that it is incredibly easy to thread. You can go with the standard bobbin, which is pretty easy to load, or you can do with the spool on top of the machine. A handy dial on the side allows you to switch between stitches with ease and you've got 8 built-in options from which to choose. There are 4 snap-on presser feet that will help you put in a buttonhole or a zigzag stitch pretty easily and a canvas cover helps to keep everything nice and neat. This is definitely a good value buy!
Click here to look at pricing on Amazon and buy now.
It's the strength of the motor that Singer has included in this high-speed sewing machine that really allows it to stand apart from the competition. It's 60% stronger than the standard sewing machine at this price point, yet it is flexible enough to let you stitch a cuff or a collar with ease. The stitches can be set to a 5 millimeter width as well so that you can create bold looks with ease. There are even three needle positions that let you take care of zippers or cording! With accessory storage in the free arm and adjustable presser foot pressure, you'll get all of the features you'd expect to see with a high quality sewing machine in this cost-effective beauty!
Click here to look at pricing on Amazon and buy now.
We really loved the bobbin replacement design that has been incorporated into this particular machine. Most machines that are designed for beginners have limited stitches and functionality, but do make replacing the bobbins and then threading the machine a pretty simple task. You'll find that simplicity in this high-powered affordable sewing machine because replacing the bobbin is a one step task. Pull out the old one, put in the new, and you're ready to go! That's what makes it one of the best sewing machines for beginners on the market right now.
Click here to look at pricing on Amazon and buy now.
Are you looking for a great computerized sewing machine that can teach you how to sew? With the Singer One, you'll find out how easy it is to start sewing almost immediately! The SwiftSmart threading techniques with an automatic needle threader is complimented by a drop and sew bobbin system that is one of the strongest, but simplest to use, in the entire industry today. Even the pedal has a pressure foot sensor incorporated into it so that you start sewing when you intend to start sewing instead of with an accidental bump. A great value, a great machine, and we know you'll love it!
Click here to look at pricing on Amazon and buy now.
We weren't expecting a whole lot from this sewing machine. At this price point and with its entry-level characteristics, we figured we were getting some pretty basic. Were we wrong! The Janome 2212 can speed up to 860 stitches per minute and it offers manual thread tension controls so you can make sure your sewing chores get done without a hitch. The presser feet just snap into place and when you put everything together, you've got a time-saving, money-saving sewing solution.
Click here to look at pricing on Amazon and buy now.
We really loved the fact that at this price point, you get a number of different feet that will help you get almost any task completed. Overcasting, monogramming, blind stitch, and a zipper foot all help you finish off any project with ease! You also get a spool spinner with the sewing machine and enough spare parts to help you keep going even if you encounter a problem while sewing. It's incredibly easy to use, no matter what your skill level happens to be.
Click here to look at pricing on Amazon and buy now.
Are you ready to begin your sewing journey? The best sewing machines for beginners are going to help make that happen for you in a simple, easy way! Get started today with one of these magnificent machines and you won't be disappointed by the investment.